THE PURPOSE
Technology is the answer, but what was the question? -architect Cedric Price 
IKEA vision is "to create a better everyday life for the many people." Inclusive research helps IKEA Home smart to develop technology open for all. Human technology made for the home. I have the joy to led the User Experience research practice for IKEA Home smart in Sweden. Collaborating with a bold, diverse team seeking to to reimagine the future of technology.
A smart home should provide value – and not only the standard value we offer our customers, for example increased convenience, reduced effort and personalisation. IKEA ambition for the smart home is to deliver both functional and emotional value in three value spaces: atmosphere, wellbeing and peace of mind. The IKEA Home smart (IHS) offer is growing continuously. Inclusive  research supports development in a diverse product range portfolio including lighting, power, sound, air, organisation, cooking, cleaning and safety smart home products.

IKEA Home smart products
(light, sound, air, blinds and App)​​​​​​​
 - 2022 
THE PROBLEM

Smart home technology is rapidly entering the home, yet most designed user experiences fail to recognize the diversity of people's needs. As more technology comes into our homes, more and more people are relying on technology that does not always prioritize everybody's needs. More people should be given the chance to question and influence the technology around them.​​​​​​​
To get a clear understanding of shared needs, we must face the fact that humanity is diverse. We are old, young, may live with disability and difficulties, and speak multiple languages; we are diverse individuals and communities. We live with other people who have competing needs/responsibilities/characteristics so there is an intersection of needs and interests per household. However, often home technology is designed as if we are all the same.  
The needs of groups and communities that experience discrimination and exclusion including people with diverse abilities are largely overlooked and often not taken into consideration for exploration and creation of new home tech. We are living with technology designed for interaction methods that are optimized for the technology and not for the people. How can design address this problem?  
One billion people around the world live with some form of disability, making up around 15% of the global population. 
THE PROCESS
We conduct human-centred research in order to minimise risk, cost and ensuring that we address people's needs. My work includes research for both digital and physical experiences - starting with the unknowns to understanding the problems users have. Inclusive user research gives a better understanding of human needs and behaviour. 

Developing human tech means that we need to look at it from diverse perspectives and be critical of the technologies we are developing and the impact they will have on people. Inclusive design research help tech creators develop socially responsible and impactful innovation that comes directly from comprehending the needs, dreams and hopes of many more people and not just the few.
Inclusive design research means caring and collaborating with underrepresented people to uncover and reframe problems into better solutions that meet the needs of many more. It means we care for how people really are and where they live.  It's about making solutions that solve real-life problems. To succeed, we use research as a starting point and aim to understand the human and the home before the tech. From these insights, the products and solutions are developed to be affordable, simple and connected to the user's life.
"I prefer not to use tech, it makes me feel stupid"​​​​​​​ - Man, 68 yold, Germany
User experience journey map. Provides a visual representation of the experiences felt by users.
THE SMART HOME EXPERIENCE
The IKEA Home smart range is developed based on decades of life at home expertise. In addition, we conducted hundreds of home visits which have been complemented by multiple user research studies. A majority of the users we observed in their homes perceived smart products as complicated, and many also felt that a smart home is something only available for the few. The easy-to-use smart home experience that IKEA offers, aims to lower the threshold for people to set up and use a smart home.

"At IKEA, we think the smart home should be for everyone. With the new IKEA Home smart app, one focus has been to create an inclusive experience, built with our customers daily life and challenges in mind. We have learnt how people use their smart homes and what works and doesn't. Based on that, we have created a simple and intuitive digital experience that enables an even smarter home for as many people as possible"- Rebecca Töreman Business leader

The smart home experience from IKEA will continue to develop over time, as DIRIGERA and the IKEA Home smart app will be updated regularly with new functionality.
IKEA Home smart products communication - 2022
When it comes to inclusive design for home technology, there is a lot of work to be done. Most of the principles and guidelines that tech companies are using to create inclusive technology today were designed for digital environments and do not meet the desired user experience of people. We know based on our research studies that digitalization changes the conditions for the user experience of home technology in both digital and physical interactions. Digitalization blurs the borders between human and technology, shifting the focus to human-technology relations and people evolving needs. Digitalization of home technology means an extension of time, place, and user interaction. 
Our research studies highlight the need of inclusive design principles in all four interaction points to control the smart homes (physical remotes, digital apps, voice control and automations).
IKEA Home smart app 2.0 - 2022
IKEA Home smart usr interface (remote control, App, voice control and automations) - 2022
MY CONTRIBUTION
As research leader for IKEA Home smart, I developed inclusive research methods with focus on inclusive design research and anticipatory design practices. I have personally conducted hundreds of home visits and smart home product testing using ethnographic methods both analog and digital. With focus on the aspects of Universal and Inclusive design, the method require active user involvement and broad representation of user groups in general – and the representation of people with diverse abilities in particular. Aiming to respond to the needs of these people one step ahead of the users decisions and responding to user needs they have not expressed yet (or that we haven't heard).  Together we learn, play, and predict the future of home technology.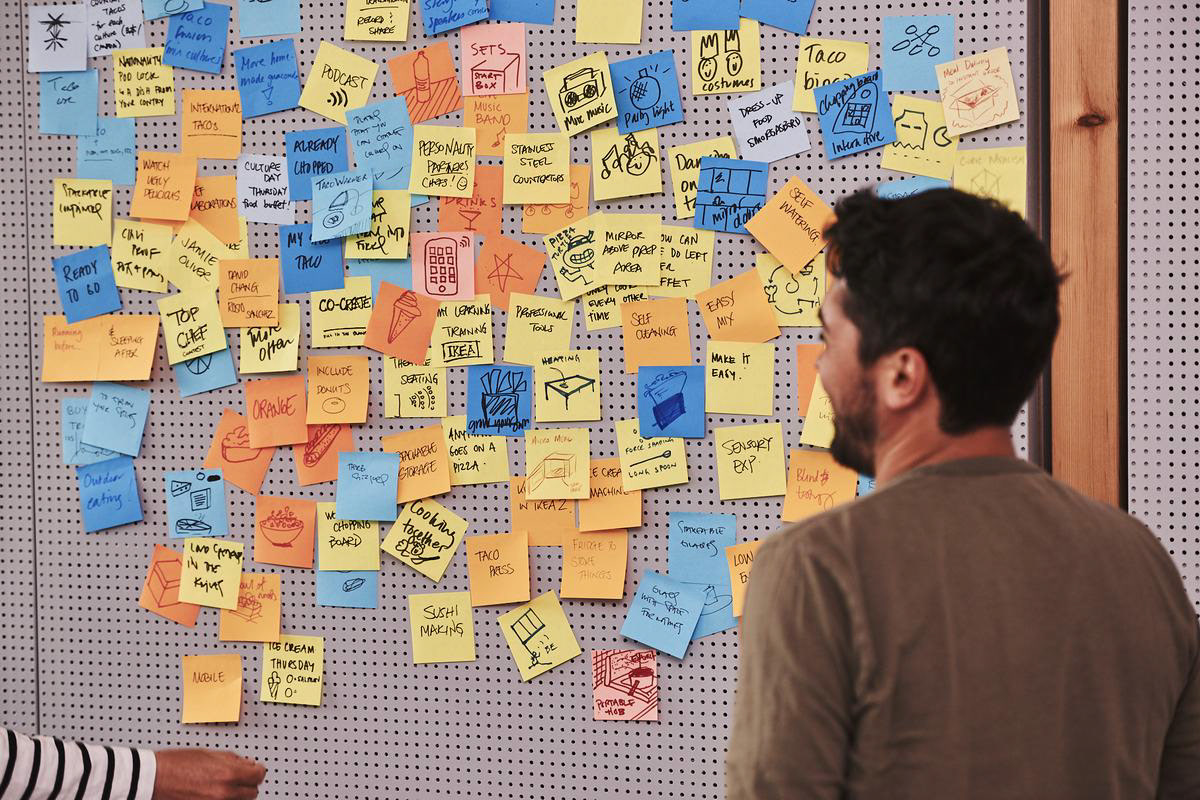 Insights clustering - 2021
Working together is at the heart of the IKEA culture. We are strongest when we trust each other, pull in the same direction, and have fun together. I care and admire the IKEA UX team.
Bilgi Karan, Siddhart Hirwani, Marlies Kolodziey, Frida Stenlund, Malin Larsson, Min Jung Park, Nikolina Fuzul, Sebastian Kelly, Jeremy Edward Viny, Lisa Wingren, Meng-Cheng Lin, Jonas Carlqvist, Mihir Joshi, Aditi Bhoot, Kamaini Mittal, Axel Bluhme, Igor Kovtun, you ROCK!
IKEA Home smart UX team - 2022