THE PURPOSE
Technology has entered the home for good, promising to help us live more effcient, more satisfying and more sustainable lives. It seeps into every element of our society, our homes and our lives – and it afects the ones we love the most: our children.
The technology that adults bring into the home becomes children's reality, inseparable from any other aspect of their up‐ bringing. Children use technology to play, connect and learn. But at the same time, they may experience frustrations or are put at risk by this technology. IKEA Home smart, together with Children's IKEA set out on a journey to understand how children perceive safety at home – and what it takes for them to feel happy, safe and well at home. With this in mind, we set out to conduct a foundational study that would help us understand what happiness, safety, and well-being at home mean to kids – and how technology at home plays into that. 
Living with Adults. Tech safety from children's perspective 
- 2022 
THE PROBLEM
The technology that adults bring into the home becomes children's reality, inseparable from any other aspect of their upbringing. Children play, connect, learn, or get let down or put at risk by this technology. Adults bring home different types of Technologies which quickly become an integrated part of many of the different activities children engage in for a major part of the day. Technological advances have empowered children to be more independent, learn in a number of innovative ways and to explore and be entertained for long periods of time.
During the COVID19 pandemic, many families around the world got even more dependent on using technology in their homes and many spent almost two years relying on techno‐ logy that did not always prioritize the children's needs in their home environments. Smart home technology is rapidly becoming children's reality - yet the children's needs and perspectives on safety and well-being in relation to technology have not been fully addressed and are largely overlooked!
Growing up in a fast paced and technology driven world, young people should be given the chance to question and influence the technology around them. By taking children's opinions seriously, we will discover unique perspectives with the potential to reshape the relationship between children, care‐ givers, and technology (including Smart homes). And we have an opportunity to set the expectations of what we demand from technology when it comes to respecting the human rights and well-being of kids as well as adults.
IKEA Home smart sensors  
- 2024 
THE PROCESS - Child-centered Research — Meeting Kids Where They Are
From the outset, we were mindful that the perspectives and needs of kids related to happiness, safety, well-being, and technology at home could potentially be very different from the adults they live with. Our aim was to understand the deeper layers of these differences and the dilemmas they create in the home. But also, to identify some of the similarities and common interests between kids and adults; knowing that these common interests could give rise to new opportunity spaces. Therefore, we designed a study with a dual focus, aiming to understand both the perspectives of kids and adults at home.
Research focus on human centered design principles with an active user involvement and broad representation of user groups in general — and the representation of people with diverse abilities in particular. The Living with adults project puts the children in the center and a key ambition of the work has been to start the trajectory of a truly human centered design approach – involving target groups that historically often have been marginalised or disregarded in tech products as well as user research initiatives.
As part of this ambition the project decided to deliberately focus on the aspects of Universal design / Inclusive design focusing on active user involvement and broad representation of user groups in general – and the representation of people with diverse abilities in particular. This research approach has intentionally been chosen since it is in line with the IKEA mission to "enable design solutions for the many people" (and not only a majority of users).
Over the course of six weeks, we conducted in-depth research. We collaborated with the research agency Future Minds and the Our Normal association, an online community for families with children with various disabilities or special needs. As the first step of this journey, we conducted research among 16 children with different abilities, their parents and their siblings. The children are aged 5-12 years. We also included both younger (1-3 years) and older siblings (11-16 years). The families live in the US, Germany and Sweden.
A day in a kid's life  
- 2022 
THE FINDINGS
Based on the research, we crafted four high level conclusions about the meaning of happiness, safety and well- being from a child's perspective – and how smart technologies can enable or inhibit that.
1. The children have very similar needs in relation to feeling happy, safe and well at home.
But they live with adults with diFfering approaches to safety technologies in the home. Some parents are tech-forward, others are tech sceptical. When it comes to safety, some parents believe in trust and clear rules. Others believe in control and surveillance. And yet some others have safety on their mind 24/7. Suppliers of smart home products have an opportunity to decide up front how they want to position themselves on that map with a future range of smart safety solutions.
2. Through our in-depth research with the children, we identiFIed
six core needs for feeling safe and well at home
. The needs are 'Time and Space to Play', 'Feeling Safe', 'Be‐ ing Me', 'Being Together', 'Being Empowered', and 'Freedom to Explore'. Smart home safety solutions can benefit from an ambition to be kid-friendly, catering directly for these needs. Exciting new opportunities arise: what will a smart home safety solution need to feature, if the starting point is to empower kids and give them more freedom to do things by themselves?
3. Current smart safety solutions in the homes are too often a point of anxiety and frustration for children.
They have to engage with technologies that are not designed to handle a variety of ways of usage, they don't meet kids where they are. Neither have these technologies been designed with an eye towards the needs of children – but exclusively considering the needs of adults. There is an unmet need and to this day unexplored market to design smart and inclusive home safety solutions that collectively cater for all members of the household; including kids. Think about a 9-year old coming home alone from school - how may we avoid that they get locked out of the house if they forgot the pin code for the smart door lock?
4. For the children of this research,
safety is more about feeling safe than about being protected from threats, within or outside of the home.
Kids are concerned about what's lurking in the dark, they are concerned about not know‐ ing what to expect, a lack of structure, being left alone, their little brother being upset or whether their beloved guinea pig gets hurt. There is an opportunity space for child friendly, smart home safety solutions that help kids overcome their concerns. Instead, the right products can elevate their independence, strengthen their trust in their surroundings and enable happy moments.
Summarising the findings of this research, we decided to craft a set of opportunity spaces where tech can be an enabler in several ways. The opportunity spaces highlight the dual perspectives from both the child and the adult; raising a whole set of different possibilities for IKEA to explore and evaluate in relation to both products and services that already have been introduced to the customers, as well as future oferings to the existing as well as potentially new IKEA customers. Each opportunity space is introduced with the dual perspective of the child and the adult – but also a set of "How might we...?" questions to continue to explore.
"Opportunity Spaces are strategic fields of innovation that offer room for new innovation as well as for growth and value enhancement." - Lead Innovation
Home tensions, children and adults  
- 2022 
THE WORKSHOP
A day dedicated to unlocking the untamed imagination of children, all with the aim of shaping the future of smart homes. Our primary objective was to create a framework that would unearth invaluable insights for the development of smart home technology, with a profound focus on enhancing the well-being, happiness, and safety of children.
At the core of this workshop was the innovative LEGO® Serious Play® methodology. This approach provided a unique platform for both children and adults to delve into the creative process. Through hands-on building exercises, participants were able to explore intricate ideas, articulate their thoughts, and uncover innovative solutions.
Participants had the opportunity to construct their vision of an ideal safe smart home designed with children in mind. Perhaps the most transformative aspect of the workshop was the open dialogues that occurred between participants and children. These discussions facilitated a deeper understanding of the unique needs and desires of both groups regarding smart home technology.
The outcome of this workshop was a treasure trove of actionable conclusions, motivational insights, driving factors, and innovative design principles. These insights were brought into the development of safety products and communication strategies. The goal was to ensure that IKEA smart home technology is not only technologically advanced but also genuinely caring and safe environments for children.​​​​​​​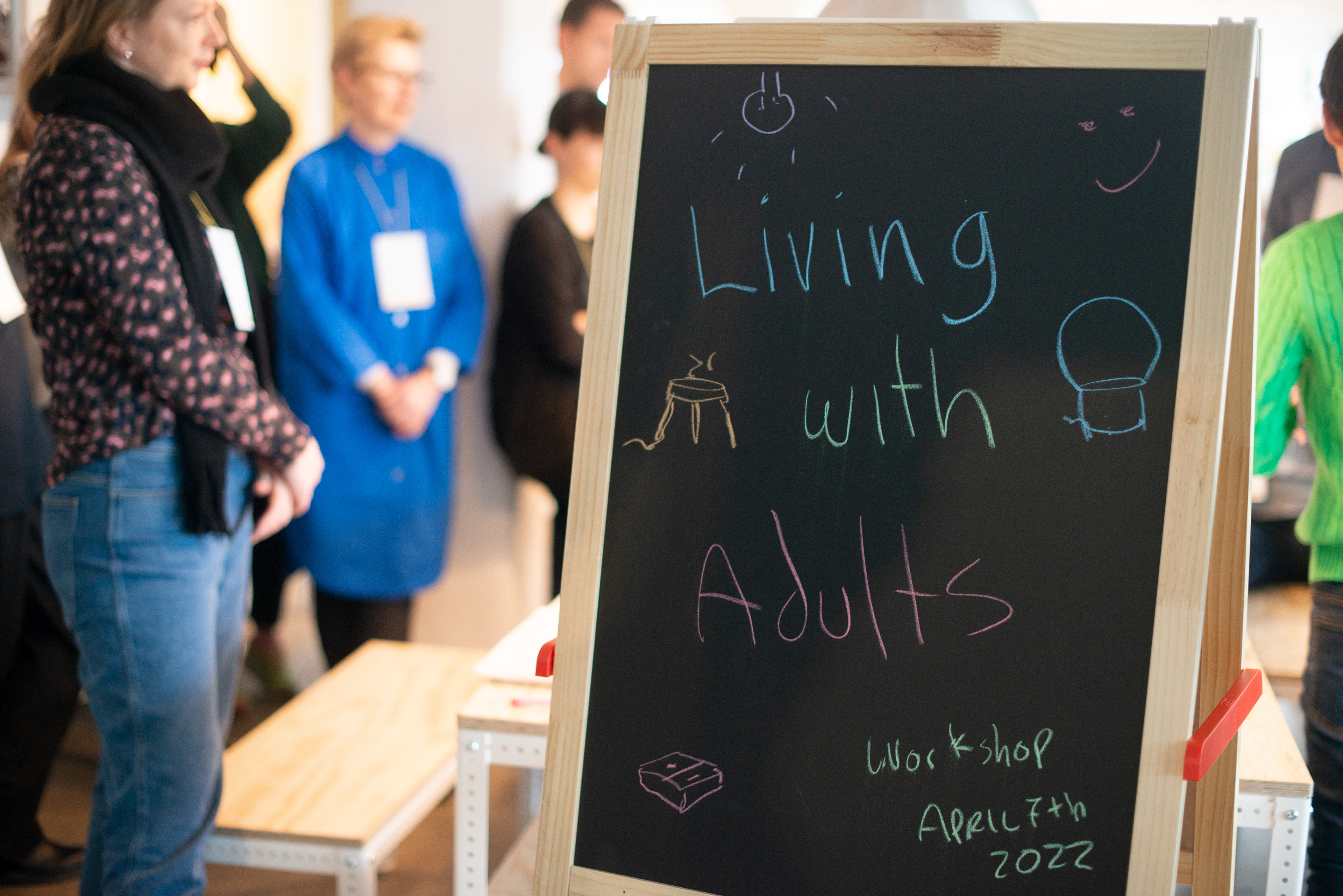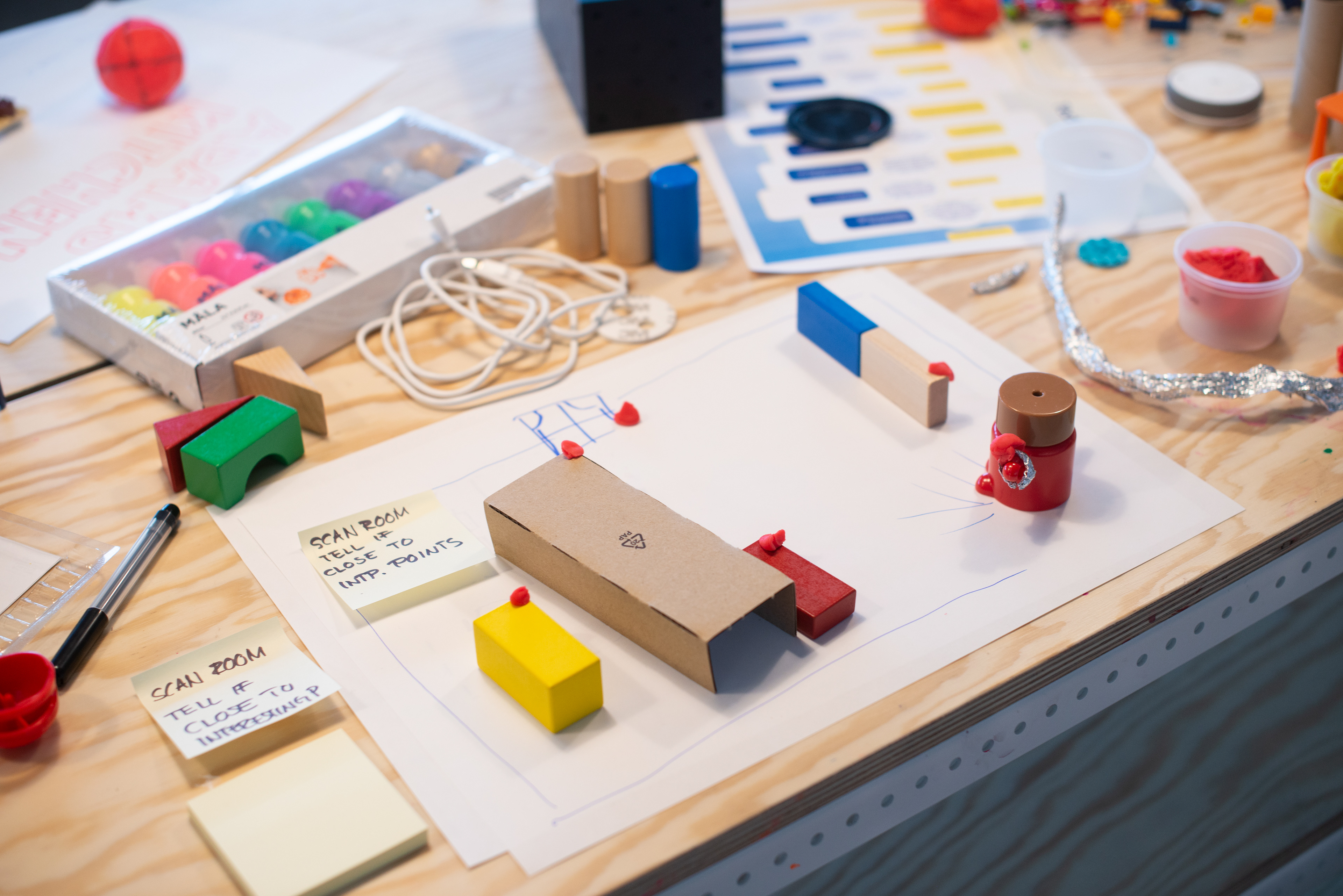 Living with Adults Workshop  
- 2022 
DESIGN PRINCIPLES
"Design principles are a set of values that act as a compass for your product, concept, or communication. They're an agreed upon truth: The guideposts that keep your entire team on the same path as you move through the design process." -Invision
Enhancing the human side of technologies for children means working in a continuously evolving framework (tech) and with children who are constantly growing and developing. Develop‐ ing technologies for the home requires us to understand children from their perspectives and expand our view beyond safety. Children do not only have to be kept safe at home. Their health, happiness, well-being, and development also need to be nurtured and safeguarded.
With this continuously evolving landscape in mind, the research team has developed eight design principles that focus on the needs of the children, their parents and technology. These principles were crafted based on the needs of the 16 families that were part of this study and aimed to help IKEA create a sustainable and trusted relationship with children. These principles inspire IKEA Home smart to conduct further research and create more innovative metrics in benefit of children's safety, happiness, and well-being
Child friendly Tech Design Principles  
- 2022 
THE PRODUCTS
With PARASOLL, VALLHORN and BADRING smart sensors, IKEA is venturing into a new category of IKEA Home smart products that enables customers to manage and monitor their homes from anywhere in the world. The smart sensors deliver real-time notifications whenever activity is detected, allowing users to stay informed and connected to their home, whether they're there or not, and act when needed.  The sensors can be used in various ways across the home: 
PARASOLL Door and Window Sensor is designed for discreet mounting on windows and doors. This sensor notifies users when these access points are opened or closed, making them aware of any unexpected entries. 
VALLHORN Wireless Motion Sensor can be placed both indoors and outdoors. It activates lights upon detecting movement and offers personalised lighting with adjustable color and intensity settings. 
BADRING Water Leakage Sensor is to be placed near areas of water usage and notifies users upon detecting water leaks, through sending mobile notifications or activation of its built-in alarm. It minimizes the impact of water-related incidents through immediate notification so you can act right away. 
"Our research in the latest Life at Home Report found that people prioritize comfort and security in their homes. Everyone wants to feel safe at home and we feel excited about entering a new smart product area that creates not only a better, but safer life at home, says Stjepan Begic, Product Design Developer at IKEA of Sweden. "We believe these products can provide our customers with peace of mind and a greater sense of control and comfort." 
All three smart sensors are based on the Zigbee software. Connected to the IKEA Home smart system, the products will be updated to offer more features and options over time. PARASOLL, VALLHORN and BADRING will start selling at IKEA from January 2024. 
PARASOLL, VALLHORN and BADRING smart sensors, IKEA
MY CONTRIBUTION
In my role as the leader of the Inclusive offer strategic initiative at IKEA, I spearheaded the Living with Adults research project. This project was pivotal in developing innovative research methodologies with a strong focus on inclusive design principles. Beyond its immediate impact, this initiative successfully instilled a culture of inclusive research throughout the organisation, igniting new research projects, particularly in the space of children and technology.
The core ambition of this project was to generate insights that stand the test of time, catering to a future where we actively seek to understand how children perceive safety, well-being, and happiness within their homes, and how technology intersects with these vital aspects of their lives. This strategic approach was not about reaching a destination but starting a long-term trajectory towards a more inclusive and forward-thinking future.
15% of the world's population experience some form of disability. Yet, only very few products are designed with their needs and perspectives in mind. Children with diverse abilities are among the most unrepresented users.

Designing kid friendly smart safety solutions involves needing to understand what kids of all ages and abilities think about happiness, safety and well-being – and how technology can enable that. Our journey is about understanding exactly that.

Living with Adults Postcard  
- 2022 
THE TEAM
IKEA Home smart and Children's IKEA collaborated with the research agency Future Minds and the Our Normal association, an online community for families with children with various disabilities or special needs for this research. All image illustrations were made by Visual Designer Nikolina Fuzul. 
IKEA + Future minds + Our Normal  
- 2022